Shop Genuine Ford Parts and Accessories with Roling Ford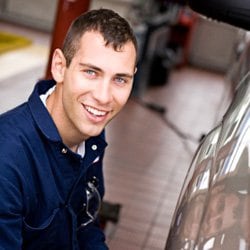 Whether you use your Escape for road trips or take your Transit to Waverly for work, properly maintaining your vehicle should be a top priority. At Roling Ford, we're proud to provide our community with quality parts and accessories that are designed to last for years to come. Contact a member of our Parts Center to receive help navigating our catalog, schedule an appointment with our Service Center, or visit us in Shell Rock to receive personalized support today!
Why You Need Genuine Ford Parts
Ford makes many vehicles that drivers near Cedar Falls rely on for work and pleasure. Keeping them running is easy when you use factory-grade or OEM parts. Thankfully, we're proud to have a warehouse full of components for various makes, models, and powertrains. No matter what car, truck, or SUV you drive, our team will be here to help you find Genuine Ford Parts, Ford Accessories, Motorcraft®, and Omnicraft™ replacements that fit right and perform like new.
OEM parts are designed according to Ford automotive engineering specifications. They provide stellar performance without the fitment or reliability issues that plague aftermarket components. Ford Parts are also made from high-quality materials, so you can fix your vehicle without worrying about frequent malfunctions or replacements.
Find Unique Components at Roling Ford
Drive an older Ford model and need parts that are hard to come by? Our parts center makes it easy to find the components you need. We have an established relationship with Ford and can provide you with a full range of parts for your every need, from fuel pumps to carburetors. With the expertise of our Service and Parts centers, we'll get you back on the road to Janesville, IA, as soon as possible.
Order Components Online
Whether you want to wrap up seasonal maintenance or want to enjoy a smoother rider on your next vacation, our team can make it happen with genuine parts and accessories. Call us for more information about getting the parts you need, view our current parts specials online, or visit our dealership to browse our catalog with a parts center expert near Clarksville, IA!