Let Rolling Ford Help You Take Care of Your Ford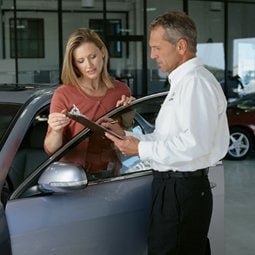 You might think about servicing your Ford vehicle when it's time for an oil change or when you need a new set of tires, but there are plenty of regular maintenance tasks you should do that will directly benefit your car both today and in the future.
When you need vehicle service, consider contacting Roling Ford in Shell Rock, IA. Our onsite service center has everything you need to care for your car.
Expert Vehicle Service is Waiting at Roling Ford
When you visit our onsite service center, you'll find us ready to handle a whole slew of services essential to drivers in Cedar Falls, Waverly, Janesville, IA.
We can help you handle regular checks and maintenance, including services like tire rotations, oil changes, and more. We can likewise help you with long term maintenance, including fluid flushes, brake maintenance, and more. We have everything you need to make sure your vehicle gives you its best for years to come.
To help guarantee our repairs are top-notch, we use nothing but OEM-supplied parts. These certified Ford parts are designed to perform better and last longer. That way you know you can count on your vehicle, no matter the conditions.
Schedule Your Service Appointment at Roling Ford Today
Are you a Clarksville, IA driver searching for great service? Get in touch with the service experts at ROling Ford today and let them know what you need. Our staff would be happy to talk to you about our current service offers. We can also help you schedule a convenient appointment to help you get the service you need.
Contact our dealership today and make arrangements for your visit to Roling Ford's service center.