Visit Our Professional Ford Service Center in Shell Rock, IA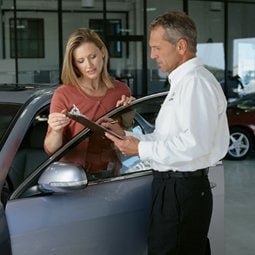 Ford vehicles are known for performing at high levels, which is likely one of the reasons you invested in yours. Thankfully, you can ensure that your Ford car, truck, or SUV continues at peak performance for as long as possible by bringing it to our Service Center at Roling Ford. From routine maintenance to more in-depth repairs, our expert technicians will take care of you and get you back on the road in no time.
Proudly Offering a Wide Range of Services
Not only is our Ford Service Center state-of-the-art and equipped with the latest equipment and tools, but we also have a team of highly skilled technicians trained to perform a broad range of services. Here are some of the common services we offer through our Service Center here at Roling Ford:
Wheel Alignment
And Much More
Frequently Asked Service Questions
Q: How often should I service my Ford vehicle?
A: The frequency in which to service your vehicle depends on several factors, including the age of your vehicle, driving habits, climate, and other details. That's why it's best practice to follow the recommended maintenance schedule for your particular model, which you can find in your owner's manual or on the Ford website.
Q: How can I make a service appointment at Roling Ford?
A: While you're more than welcome to call our Ford Service Center to set up an appointment, you'll be glad to know that we also offer a convenient online scheduling tool. Simply fill in the form with information like the vehicle you're bringing in, the services it requires, and a date and time that works for your busy schedule.
Q: Is there a benefit to visiting Roling Ford's Service Center?
A: Our technicians know all the ins and outs of your specific Ford model, meaning you can trust that we know what we're doing when servicing your vehicle. Plus, we offer competitive pricing, money-saving service specials, and top-notch customer service, all of which make us stand out.
Schedule Service with Us Today
If it's time to have your Ford car, truck, or SUV serviced, make an appointment with our Ford Service Center today at Roling Ford.